Jan 12, 2016 – Dames Travel to View Gardens in Rye, NY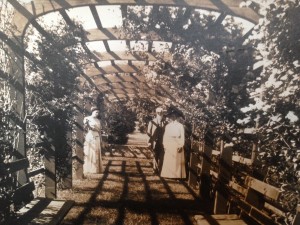 Bundled against the January cold, thirteen Colonial Dames and candidates, joined MVHMG director Terri Daly to visit the Jay Heritage Center's exhibit, "Mary Rutherfurd Jay, Garden Architect."
The Greek Revival mansion in Rye, NY,  was built in 1838, making it a contemporary of CDA's own Mount Vernon Hotel Museum & Gardens. Mary Rutherfurd Jay, born in 1872, was herself a contemporary of our Colonial Dames' founders. The Jay Center plans to restore the gardens that were part of that estate.
Suzanne Clary, President of the JHC and curator of the exhibit, gave a private tour in the Center's Carriage House.
As CDA contemplates our own museum garden restoration, we can learn from the interpretation and plans of this sister institution near New York City. Dames who visit New York from other chapters may wish to see the property, which is a short train ride from the city.
Mary Rutherfurd Jay, a child of the Gilded Age, grew up on her family's estate, where she developed her love of gardening and farming. She later studied engineering at MIT. In World War I she joined Anne Morgan, a Dame, and other American friends supporting the Allies in France.
Mary established a farm in France to provide food for the armies and the devastated population. She remained there following the war to teach farming to shell-shocked soldiers as a way to help them heal.
Returning to America, she resumed her landscape design career, working primarily in the New York/Connecticut area. Her gardens are characterized by their organic harmony with the land; a marshy piece of ground becomes a Japanese water garden, for example, not an English country one.
The exhibit includes photographs of the Jay family and the American women in France during the war, as well as memorabilia. Most interesting are Mary Rutherfurd Jay's landscape design drawings, copied from her originals at the archives of UC Berkeley; and period photographs of gardens she designed.
MVHMG Director Terri Daly and JHC President Suzanne Clary, directors of properties representing similar periods in American history, will continue to interact in the future.
Following the program, the Dames shared lunch in the dining room of the Jay mansion, overlooking the estate's meadows, which stretch down to the Long Island Sound.
The expedition was co-sponsored by the Parent Chapter Fellowship and the Garden & Grounds committees. "I could have listened and looked at it for hours," commented member Robin Lynch.