1.18.18 – CDA Past PG Charlotte Armstrong 1927-2017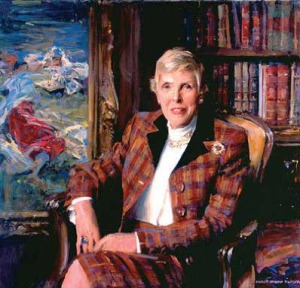 Charlotte P. Armstrong, a trailblazer for women's equality and former President General of The Colonial Dames of America (2000-2003), passed away in December, 2017, in Camden, Maine. A native of Boston, she graduated from Harvard Law School in 1953, a member of the first class to admit women. She went on to become a member of the Board of Overseers of Harvard University and served on a wide variety of boards and committees connected to the university and the law school. She received a bachelor's degree from Radcliffe College, cum laude, and a master's in public law and government from Columbia University. Her accomplished legal career included positions in government, major law firms, and corporate and financial institutions.
 In addition to her service to CDA, Charlotte was a Fellow at the Frick Collection and the Pierpont Morgan Library. She joined her husband, J. Sinclair Armstrong, in the successful fight to save the historic St. Bartholomew's Episcopal Church in Manhattan. She was chairman of the Board of Trustees of the American Farm School in Greece and was a trustee of the American Trust for the British Library; she was a member of the board of the Mount Vernon Hotel Museum & Garden, the Community Service Society of New York, and the Council for Career Planning.