March 18th 2016 – 2016 CDA BOOK AWARDS ANNOUNCED
Sixty-five years ago, in 1951, The Colonial Dames of America inaugurated its prestigious Book Awards. On March 10, 2016, the Book Award Committee, chaired by Past President General Audrey Svensson, announced the exciting 2016 awards, which will be presented at the CDA Annual Meeting and Luncheon on May 2 in Manhattan. In addition to the Book Award, the CDA presents a Citation to an outstanding book, as well as a Young Reader's Award. The winning author will make the keynote address after the presentation.
Books selected for the 2016 Book Awards include :
Award:
SHE CAN BRING US HOME: Dr. Dorothy Boulding Ferebee, Civil Rights Pioneer
Author: Diane Kiesel
Potomac Books, an imprint of the University of Nebraska Press
Citation:
THE GHOST ARMY OF WORLD WAR II: How One Top-Secret Unit Deceived the Enemy with Inflatable Tanks, Sound Effects and Other Audacious Fakery
Authors: Rick Beyer and Elizabeth Sayles
Princeton Architectural Press
Youth Award:
THE NUTCRACKER COMES TO AMERICA: How Three Ballet-Loving Brothers Created a Holiday Institution
Author: Chris Barton
Illustrated by Cathy Gendron
Millbrook Press, A Division of Learner Publishing Group
". . . . An African American obstetrician and civil rights activist from Washington DC, [Ferebee] was descended from lawyers, journalists, politicians, and a judge. At a time when African Americans faced Jim Crow segregation, desperate poverty, and lynch mobs, she advised presidents on civil rights and assisted foreign governments on public health issues. Though articulate, visionary, talented, and skillful at managing her publicity, she was also tragically flawed.
Ferebee was president of the Alpha Kappa Alpha black service sorority and later became the president of the powerful National Council of Negro Women in the nascent civil rights era. She stood up to gun-toting plantation owners to bring health care to sharecroppers through her Mississippi Health Project during the Great Depression.
A household name in black America for forty years, Ferebee was also the media darling of the thriving black press. Ironically, her fame and relevance faded as African Americans achieved the political power for which she had fought. In She Can Bring Us Home, Diane Kiesel tells Ferebee's extraordinary story of struggle and personal sacrifice to a new generation.
Author Diane Kiesel is an acting justice of the New York State Supreme Court. She presides in the Bronx County Criminal Term. A former journalist, she is a winner of the Worth Bingham Prize for Investigative Journalism and is the author of Domestic Violence: Law, Policy, and Practice. She lives in New York City. (Author photo by John Halpern).
Notice
: Undefined variable: transition_delay in
/var/www/wp-content/themes/stockholm/vc_templates/vc_single_image.php
on line
226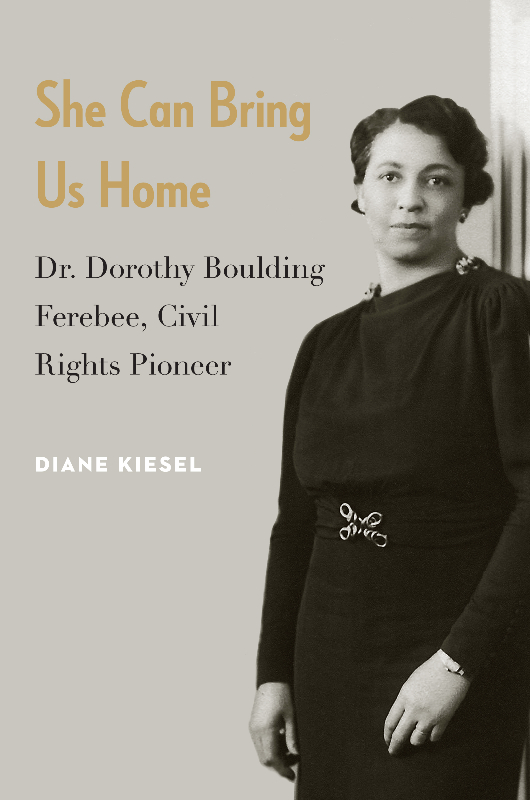 Notice
: Undefined variable: transition_delay in
/var/www/wp-content/themes/stockholm/vc_templates/vc_single_image.php
on line
226