2.02.2019 – CDA Gates at Jamestown Project Announced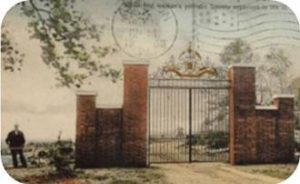 In 1907, CDA erected magnificent entrance gates at Jamestown Island (Virginia), an important demonstration of the Society's commitment to history and preservation. Millions of visitors have passed through these gates, including HM Queen Elizabeth II during two different visits to the island.
Our handsome brick masonry columns display elaborate ironwork, some of which was formerly gilded, featuring the Society's insignia and Latin motto. While still commanding the island's entrance, 111 years of salt air and wear have taken its toll. Restoration work is sorely needed.
"With untiring devotion they have preserved the landmarks of our history. To them
now belongs the honor of rescuing from the ravages of the flood this Island of Jamestown;
this birthplace of the nation; this gateway of the greatest country the sun ever shone upon."
The Honorable James Alston Cabell, spoken at the 1907 CDA Gates dedication
In conjunction with the 400th anniversary of the first representational General Assembly on these shores – the cradle of modern democracy – the Dames' leadership has approved the restoration of the 1907 CDA Entrance Gates at Jamestown as a Society-wide initiative. This bolsters a century-old relationship with Preservation Virginia, the entity that owns and preserves historic Jamestown Island. Our special partnership will be expounded upon later this year by Executive Director Elizabeth Kostelny, keynote speaker of the Society's 2019 Annual Meeting.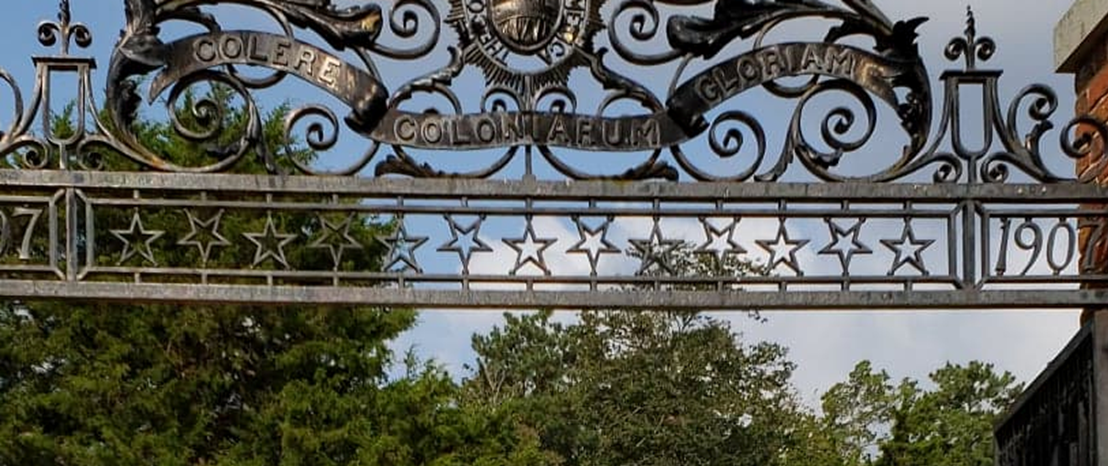 Subsequently, an onsite rededication of the gates will take place to which all Dames will be invited. Tentative plans are slated for a commemorative ceremony on Wednesday, September 18, 2019, with a gala that evening at an exclusive private venue in Richmond; and festivities continuing the next day.
The nation's top restorer has been engaged to ensure the highest quality masonry, ironwork, and gilding, ensuring another century of preserved prominence. Leadership gifts have been received for the bulk of this $38,500 project, leaving approximately $12,000 more to be raised.
As we personally – along with our respective chapters – have already done, we ask you to participate by making a donation to this milestone initiative in one of the following ways:
1. Sending a check with memo "CDA Gates Project" to 417 E. 61st St. New York City 10065.
2. Calling 212-838-5489 or emailing [email protected] with your payment information.
3. Visiting the website at: https://cda1890.org/product/cda-gates-jamestown/
With heartfelt gratitude for whatever you can do to help join us in meeting the Society's goal.
Most sincerely,
Brantley Knowles                                           Jocelyn Lance
President General                                          CDA Gates Campaign Chairman