Mount Vernon Hotel Garden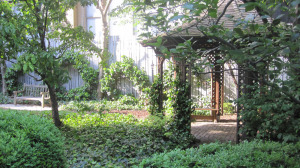 A walk through the garden takes the visitor out of the bustle of the city into a quiet, beautifully ordered oasis of shrubs, plants, and flowers. The garden is open to visitors to the Mt. Vernon Hotel Museum.
In 1924, when The Colonial Dames of America bought the "Teller Mansion" from the Standard Gas and Light Company to use as its headquarters, the house was surrounded by gas storage tanks. There was no trace of the early 19th-century garden, orchard, or trotting course that guests visiting the Mount Vernon Hotel between 1826 and 1833 enjoyed.
After removing the gas tanks, the CDA hired landscape architect Mary Cattell to design an early 18th-century garden behind the house, with espalier ivy trained on the fences. Cattell was careful to include only plants and flowers that had been in use during that period, with special plantings of spring flowering shrubs and bulbs favored by English and Dutch settlers. When the garden was completed, it was considered an important contribution to the cultural ambience of New York.
In 1974, having purchased an adjacent building, the CDA decided to reinterpret the garden as a recreation of a mid-19th century garden and hired Alice Recknagel Ireys, a renowned landscape architect who also designed the Fragrance Garden at the Brooklyn Botanic Garden, to create the design. Ireys chose plants that were popular during the Victorian era: boxwood, roses, lilac, viburnum, and herbs. She also used many plants native to North America such as ferns, ginger, cornelian cherry, and shadblow. In 1995 Gina Ingoglia Weiner followed Ireys as advisor to the Mount Vernon Museum Garden. She added new paths to the garden's design, as well as a gazebo in 2006, in honor of Esther "Faity" Leeming Tuttle, who had chaired the CDA's garden committee for many years.