New Downloads: CDA Brochure and 125th Anniversary Video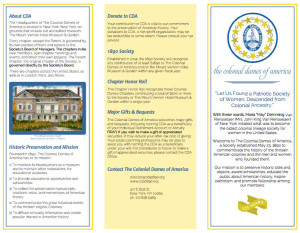 *Our CDA1890 website has been upgraded to a higher security level, making your exploration of the site even safer. We will continue to refine and upgrade the site, always striving to support our CDA Brand and to protect our members and information.
*The video produced for the CDA 125th Anniversary is now available for viewing on the website on the About CDA page. Chapters who would like to show the video at their meetings should send a request for download instructions to [email protected] or [email protected]. It's easy to download on your computer or onto a thumb drive; you can show the video on a computer, TV, or large screen.
*Good news: there is a new CDA brochure that has been designed for downloading and printing. This brochure is a great way to introduce CDA to prospective members, benefactors, media and others. It is a two-sided, three-fold color brochure which can be mailed or given in person. Download a copy.
*Please let us know if you would like to download the two fonts used on the CDA website and in the brochure. These are easily downloaded are are designed to enhance our logo and medallion. When you download the fonts you will find a variety of weights (heavy, bold, medium, light, italic, etc). The fonts should automatically be added to your word processing software when they are downloaded.